(Call to order items on this page)
1. Radiation Safety Officer Training for Industrial Radiographers CD-Rom Course w/Manual ($695) – RSO-IR-CD1
The Radiation Safety Officer (RSO) course is CD-ROM based for Industrial Radiography written by Dr. Donald Hastings.  It is a self-study course for RSO candidates for x-ray, gamma and neutron radiography.  The course includes a CD-ROM or Flash Drive together with the Nevada Technical Associates (NTA) "Radiation Safety Officer" manual.  The course is based on a 40 hour RSO course taught by the author.  Topics are based on the NTA RSO course and on the authors experience with industrial x-ray, gamma and neutron radiography.  The course has multiple choice practice questions at the end of each lesson.  There is a final exam from randomly chosen questions that the RSO candidate must pass to obtain the RSO certificate.  The certificate provides the documentation that the RSO candidate meets the requirement of "adequate formal training in the establishment and maintenance of a radiation safety protection program" as required by 10CFR34.42.
A DEMO CD-ROM is available for preview at no cost, which you may download.
The cost of the CD-ROM and Manual is $695.00
CD-Rom Course Lessons:
Introduction and Fundamental Concepts
Radiation Decay
Interaction of Radiation with Matter
Radiation Detection and Measurement
Biological Effects of Radiation
Shielding
Personnel Dosimetry: Devices & Methods
Regulations and Guidance
Radiological Surveys, Controls and Documents
Radioactive Material Transportation and Disposal Regulations
Radiological Emergencies
Radiation Safety Programs for the RSO
Neutron Radiography
Final Exam
Requirements:
SWF (Flash Player 10 or more)
Internet Explorer versions 8, 9, 10, 11
Chrome (latest)
FireFox 4.0 (or later)
Mac
2. Basic Radiation Safety Training (CD-ROM) ($99) Product Code: RAD-CD1
This is a computer based introduction to radiation safety that is intended for those with no previous training or experience with ionizing radiation. There are 10 Chapters with a review quiz at that end of each chapter and an exam at the end of the complete course. The topics covered include Introduction to Radiation, Atomic Structure, Characteristics of Ionizing Radiation, Radioactive Materials, Effects of Ionizing Radiation, Radiation Units of Measure, Biological Effects and Basic Concepts of Radiation Protection.
System Requirements:
The software will work on Windows: 95, 98, ME, 2000, XP, possibly Vista (with some issues).
The software will work on only certain types of Windows 7 and that is only with a separate downloaded add-on from Microsoft called XP-Mode
The software will NOT work with Windows 7 Starter, Home, or Home Premium versions.
XP-Mode can only be downloaded and used on Windows 7: Professional and higher versions (Enterprise, and Ultimate)
We estimate that the course will require 2 to 4 hours to complete. It is a self-paced course and does not have to be completed in one sitting.
3. RS Solutions, Product Code: RS-Solutions-2000
RS Solutions is a Microsoft Access database application that provides your Radiation Safety Office with a powerful tool to store, organize and view its records and data. The software is user friendly and is based on the familiar Windows environment including command buttons, pull-down lists, and on-screen help. The software can be customized to fit the specific needs of your organization. This software is compatible with Windows 95, 98, 2000, XP and NT.
RS solutions will increase the accuracy and efficiency of your radiation safety office by providing information that was previously unavailable or difficult to retrieve. With this software, your office can avoid the common regulatory violations that occur from poor and inefficient record keeping.
The database opens with a MAIN MENU, which allows the user to select from one of nine categories: Authorized Users, Radiation Workers, Dosimetry, Radioactive Materials, X-Ray Machines, Radioactive Waste, Laboratories, Equipment and Miscellaneous.
Each of the categories on the main menu allow you to access other menus and perform a large number of functions related to the category. An image of the main menu is shown below. The links are not functional in the image below.
If you would like a free demo version, please call us.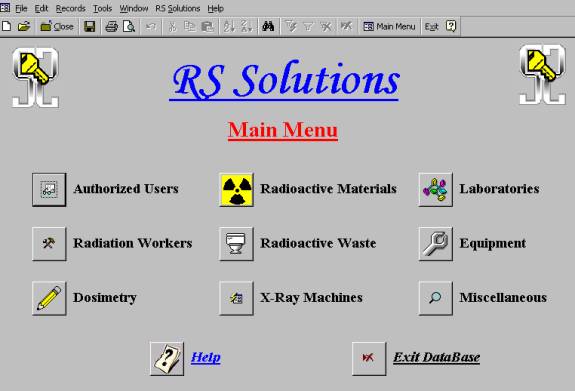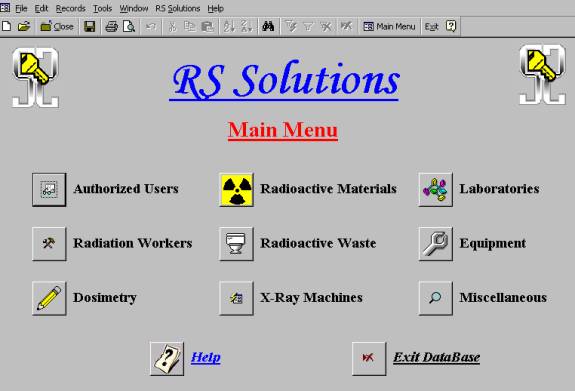 4. NRRPT and AAHP Exam Review Software
For information about our NRRPT and AAHP software, Click here.