Roentgen's discovery of x-rays was easily the most exciting scientific discovery of its time. Here were invisible rays that were fairly easy to generate and that could pass through solid matter – not only that, but they could even show you what was inside that matter they'd passed through! In the case of the human body (one of the first and most-frequently objects to be x-rayed), these rays would show bones – both broken and whole – as well as internal organs and any foreign objects that might have ended up within the body.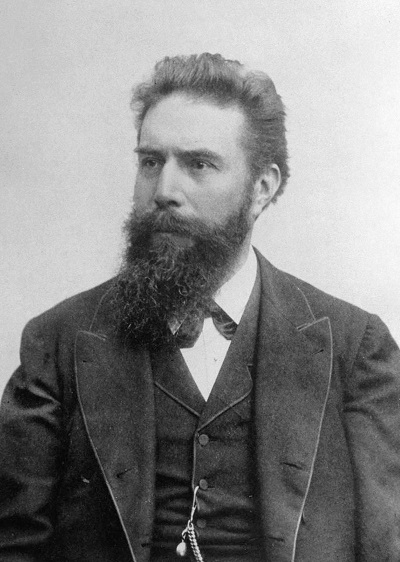 Wilhelm Conrad Röntgen (March, 27 1845 – February, 10 1923) was a German mechanical engineer and physicist, who, on 8 November 1895, produced and detected electromagnetic radiation in a wavelength range known as X-rays or Röntgen rays, an achievement that earned him the inaugural Nobel Prize in Physics in 1901.

Reference: https://en.wikipedia.org/wiki/Wilhelm_R%C3%B6ntgen#/media/File:Roentgen2.jpg
Now take a moment to consider what this would mean to a doctor. Say, for example, a mother brings in a child she thinks has swallowed a key. The child appears to be in pain, which would seem to confirm the key-swallowing, so what do you do?

You could simply watch and wait to see if the key passes through – but what if it's hung up in a bend of the intestine and tears its way through into the abdominal cavity?

You could perform exploratory surgery – but where do you cut? And what if you search and search and don't find the key? Was the mother wrong and the key was simply lost (in which case the surgery wasn't necessary), or did you miss it somehow?

And now you hear of this device that takes out all the guesswork – you don't have to wait and hope, you don't have to cut into an otherwise healthy child, wondering if you're doing the right thing. One quick picture and you know exactly what's going on, and likely what you need to do. This has to have seemed nearly miraculous to doctors at that time.

With all of the x-rays that were being taken, physicians noticed they were starting to see a new kind of burn on their patients, sort of like a sunburn, but a little more painful. With time, they noticed a correlation between these burns and patients who'd had x-rays and it was easy to assume that the x-rays were causing the burns. But that was an assumption, not proof.