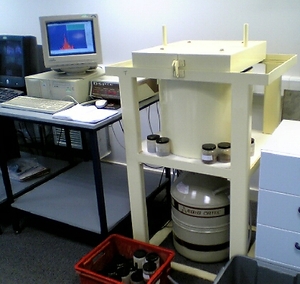 Atlanta, Georgia ($1,500)
March 21 – 25, 2016 [register online]
September 26 – 30, 2016 [register online]
This course is designed as an introduction to gamma spectroscopy and is intended for radiochemists, technicians and others who will be doing routine gamma spectroscopy as well as quality assurance officers and data validators who may have a need to understand gamma spectroscopy measurements. Approximately 60% of the course will be devoted to lectures and the remaining time will be spent on hands-on work in the counting room. Special attention will be given to calibration and the quality assurance aspects of gamma spectroscopy.
The course will be held at the facilities of Nuclear Technology Services, at 635 Hembree Parkway, in Roswell, Georgia, a northern suburb of Atlanta. The Atlanta International Airport is south of Atlanta, and the driving time between Roswell and the airport is approximately one hour. Attendees arriving by air should make arrangements for a rental car if at all possible.
Because traffic can be congested in the area, we suggest that attendees make plans to stay in Roswell, or within 5 miles of the course location. There are a number of hotels in Roswell where attendees can stay. The Holiday Inn Express in Alpharetta, Telephone 770-664-6661 or the Courtyard by Marriot is in Roswell. It is located at 1500 Market Blvd in Roswell and the phone number is 770-992-7200.
The course begins at 8:30 and ends at 2:00 p.m. on the last day. Dr. Hermon Rao will be the instructor.
This course can be scheduled by special arrangement. For groups of 3 or more, we will schedule this course to fit your needs. C.E.U. Credit – This course has been approved for 32 Continuing Education Units by the American Academy of Health Physics.