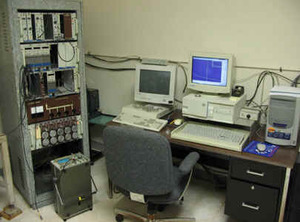 Atlanta, Georgia ($1,950)
2022 Courses:
May 2 – 6, 2022 [register online]
November 7 -11, 2022 [register online]
REGISTRATION – You may register by any of several methods. The preferred method is online registration which you can do by clicking on the link (if available) beside the course date above.
This course is designed as an introduction to liquid scintillation counting and alpha counting and is intended for radiochemists, technicians and others who will be doing this work in the laboratory. It will also be useful for quality assurance officers, radiation safety officers and data validators who may need to understand measurements produced by liquid scintillation counting and alpha counting. Approximately half of the course will be devoted to classroom instruction and the remaining half will be spent on laboratory exercises. Special attention will be given to the quality assurance aspects of both methods. Please call for a course outline.
The course will end at approximately 2:00 pm on the last day. Traffic can be very congested in the Atlanta area, so adequate time should be allowed for travel to and from the airport and also for travel between your hotel and the course location each day.
The course will be held at the facilities of Nuclear Technology Services, 635 Hembree Parkway, in Roswell, Georgia. More detailed information including suggested hotels, will be sent in the confirmation packet to those who register.
For groups of 4 or more, this course can be scheduled to fit your needs.
The instructor for this course is Dr. Hermon Rao.
Nearby Hotels:
1. Comfort Suites Alpharetta
1005 Kingswood Place
Alpharetta, GA 30009
Phone: 770.649.0955
https://www.choicehotels.com/georgia/alpharetta/comfort-suites-hotels/gab57
2. Holiday Inn Express (Alpharetta – Roswell)
2950 Mansell Road Hyphen Alpharetta , Georgia 30022
Phone: 1-770-552-0006
Fax: 1-770-993-3541
https://www.ihg.com/holidayinnexpress/hotels/us/en/alpharetta/atlaa/hoteldetail
3. Comfort Inn – Alpharetta
5455 Windward Parkway West, Alpharetta, GA 30004
Phone: (770) 664-7997
Fax: (770) 664-4775
https://www.choicehotels.com/georgia/alpharetta/comfort-inn-hotels/ga910
4. Baymont Inn & Suites Roswell Atlanta North
1500 Market Blvd, Roswell, GA 30076-2712
Phone: 1-770-992-7200
Fax: 1-770-993-7133
https://www.baymontinns.com/hotels/georgia/roswell/baymont-inn-and-suites-roswell/hotel-overview