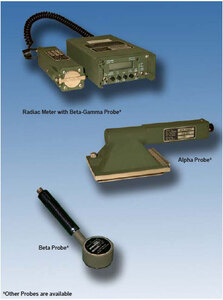 Atlanta, Georgia area (Roswell) $950
2023 Course Dates:
August 23 – 25, 2023 [register online]
This 2.5 day course focuses on factors affecting the performance of portable and laboratory radiation detection instruments. The course is designed for radiation detection users, supervisors and managers of users, and quality assurance personnel with responsibilities related to instrument use. This course is unique in that it emphasizes user verification of the performance aspects of detection instruments. The course addresses instrument selection, factors influencing proper calibration and operation, variables in the measurements made by an instrument, and the frequency and type of performance checks.
The course is based on applicable current regulations such as 10 CFRs, ANSI Standards, NUREGS, NCRPs, ICRP/ICRU and IEEE transactions. The performance standards set forth in ANSI N4217A are reviewed as a basis for the discussion on performance checks. NCRP-112 and ICRU-47, both of which address calibration and use of instruments to measure dose equivalent-related quantities, are the principal support reports for the course.
The course will end at approximately 12:00 pm on the last day. Traffic can be very congested in the Atlanta area, so adequate time should be allowed for travel to and from the airport and also for travel between your hotel and the course location each day. The course will be held at the facilities of Nuclear Technology Services, 635 Hembree Parkway, in Roswell, Georgia. More detailed information including suggested hotels, will be sent in the confirmation packet to those who register. For groups of 4 or more, this course can be scheduled to fit your needs.
This course has been approved for 32 continuing education units by the American Academy of Health Physics. We will also apply for units from any other organization if requested.
Nearby Hotels:
1. Comfort Suites Alpharetta
1005 Kingswood Place
Alpharetta, GA 30009
Phone: 770.649.0955
https://www.choicehotels.com/georgia/alpharetta/comfort-suites-hotels/gab57
2. Holiday Inn Express (Alpharetta – Roswell)
2950 Mansell Road Hyphen Alpharetta , Georgia 30022
Phone: 1-770-552-0006
Fax: 1-770-993-3541
https://www.ihg.com/holidayinnexpress/hotels/us/en/alpharetta/atlaa/hoteldetail
3. Comfort Inn – Alpharetta
5455 Windward Parkway West, Alpharetta, GA 30004
Phone: (770) 664-7997
Fax: (770) 664-4775
https://www.choicehotels.com/georgia/alpharetta/comfort-inn-hotels/ga910
4. Baymont Inn & Suites Roswell Atlanta North
1500 Market Blvd, Roswell, GA 30076-2712
Phone: 1-770-992-7200
Fax: 1-770-993-7133
https://www.baymontinns.com/hotels/georgia/roswell/baymont-inn-and-suites-roswell/hotel-overview