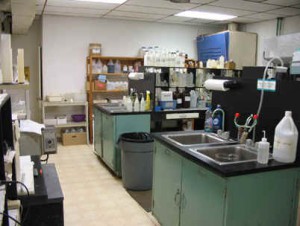 The course fee is $1,950.00
2022 Course Dates:
June 20 – 24, 2022 [register online]
October 10 – 14, 2022 [register online]
This radiochemistry course is designed for those who are beginning careers in radiochemistry and for more advanced radiochemists who may need a refresher course. The course emphasizes the analytical aspects of radiochemistry. The course should also be useful to quality assurance officers, data validators and others who may need an understanding of radiochemistry in their work. Topics to be covered include introductory material about the atomic nucleus, radioactive decay processes, interaction of radiation with matter and counting techniques such as gamma spectroscopy, alpha spectroscopy, liquid scintillation counting, and gas flow counting. The statistical aspects of radioactive decay are also discussed as well as common problems in the radiochemical laboratory.
A model quality assurance plan for a radiochemical laboratory is presented and common quality assurance problems are discussed with the class. Student exercises are an important part of the course.
Registration – You may register online by clicking the link above (the link entitled online registration). You may also register by calling us or faxing us. A fax registration form is available at the Contact Us link at the top of this page.
Course Location
The course will be held at the facilities of Nuclear Technology Services, Inc. at 635 Hembree Parkway in Roswell, a northern suburb of Atlanta. The course will start at 8:30 each day and end at about noon on Friday. Additional information will be sent to those who register. Although it is possible to find shuttle service between the airport and Roswell, we recommend a rental car if possible for those flying to Atlanta.
There are a number of hotels in Roswell where attendees can stay. Because traffic can be congested in the area, we suggest that attendees make plans to stay in Roswell, or within 5 miles of the course location. There are a number of hotels in the area where attendees can stay.
Nearby Hotels:
1. Wingate by Wyndham – Alpharetta
1005 Kingswood Place, GA 400 & Mansell Rd – Ex 8, Alpharetta, GA  30004-4731
Phone:  770-649-0955
https://www.wingatehotels.com/hotels/georgia/alpharetta/wingate-by-wyndham-alpharetta/hotel-overview
2. Holiday Inn Express (Alpharetta – Roswell)
2950 Mansell Road Hyphen Alpharetta , Georgia 30022
Phone: 1-770-552-0006
Fax: 1-770-993-3541
https://www.ihg.com/holidayinnexpress/hotels/us/en/alpharetta/atlaa/hoteldetail
3. Comfort Inn – Alpharetta
5455 Windward Parkway West, Alpharetta, GA 30004
Phone: (770) 664-7997
Fax: (770) 664-4775
https://www.choicehotels.com/georgia/alpharetta/comfort-inn-hotels/ga910
4. Baymont Inn & Suites Roswell Atlanta North
1500 Market Blvd, Roswell, GA 30076-2712
Phone: 1-770-992-7200
Fax: 1-770-993-7133
https://www.baymontinns.com/hotels/georgia/roswell/baymont-inn-and-suites-roswell/hotel-overview