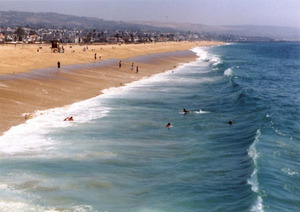 The fee for this course is $1850.
Registration: You may register by any of several methods. The preferred method is online registration which you can do by clicking on the link beside the course date. You may also call us to register or fax the registration form that is in our brochure. Payment is not required at time of registration.
There are no courses currently scheduled for Newport Beach, CA
Course Details: The course is designed to provide the technical and practical information needed to prepare a person to be an effective radiation safety officer. It will also be useful as general introductory training for anyone who works with radioactive materials or who may be required to be an alternate radiation safety officer.
Topics to be covered include atomic structure, properties of ionizing radiation, shielding, radiation and biological effects of radiation exposure, radiation detection and measurement, state and federal regulations, dosimetry, emergency procedures, records/documentation and transportation regulations. The course outline is available below in PDF format.
Continuing Education Units: Approved for Continuing Units by the American Academy of Health Physics, The American Society of Radiologic Technologists and the American Board of Industrial Hygiene. For the American Academy of Health Physics, the units granted are 32 C.E. Units, for the ASRT, it is 30.5 units and for the ABIH, it is 4.5 CM points. We will apply for Continuing Education Credits from other organizations if you will contact us at least 45 days prior to taking the course. Approval from other organizations is usually easy to get but some require that application be made prior to the course.
Units from the ASRT may be important to California residents because the state of California accepts these units in its program of continuing education required for renewing permits and certificates in radiologic technology. This is normally of interest to hospitals. Attendees should register for the course as early as possible. We recommend registration at least 60 days before the start date of the course to insure that you will get your first choice of dates and location. However, we do not have a registration deadline, so even last minute registrations can sometimes be accepted. You may pay by credit card, check or wire transfer. Please arrange for payment or a purchase order to reach us 20 days before the start date of the course. If there is a need to pay after the 20 day deadline, please call us to make arrangements so that we know that payment is being processed.
Course Location: 
Holiday Inn Express & Suites Costa Mesa
2070 Newport Boulevard
Costa Mesa, CA 92627
Hotel's Phone Number: 949-631-6000
Please call the hotel separately to make your room reservation.
Location Details:
Centrally located among beautiful beaches – just 10 minutes driving distance from the closest beach (20 minutes in heavy traffic), fine dining, premier entertainment and exclusive shopping, hotel's accommodations are convenient and comfortable. In addition, the hotel  is just over two miles from John Wayne Airport and easily accessible from the 405 and 55 Freeways, making travel a breeze.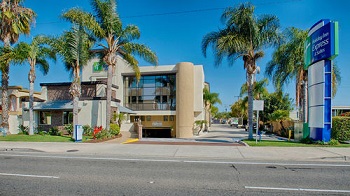 Start your day off right with free breakfast at their Express Start Breakfast Bar. Enjoy their melty gooey cinnamon rolls, or decide to go extra-fit with cereals, yogurts, and a variety of breads. For an invigorating workout, try the newly added Fitness Center equipped with cardio equipment and free weights.
Free high speed internet is also included for hotel guests.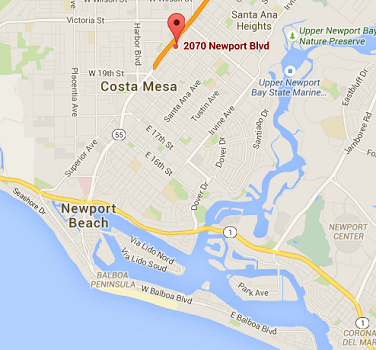 If you would like to receive a course outline by fax, please call us or see the Outline in PDF format.
Is this course what I need to become a Radiation Safety Officer?
We have an extensive discussion of the above question at this link.