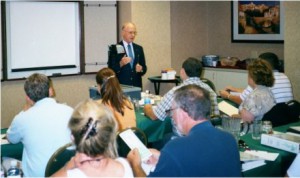 Radiation safety training courses have been offered by Nevada Technical Associates, Inc. since 1994. Our training courses include Radiation Safety Officer, Radiation Safety Officer Refresher, Transportation of Radioactive Material, and NRRPT Exam Review. We also produce radiation safety videos which are described in another part of this site. In addition to offering these courses in Las Vegas we also schedule the courses at a number of other locations including Atlanta, Orlando, New Orleans, Columbus, San Diego, San Jose and Newport Beach.
After 17 years in business and having had hundreds of customers, we know that we are meeting the needs of our customers and in many cases, exceeding expectations. We routinely get useful feedback from our customers and often use that feedback to improve our courses. Here is part of an email that we received in July of 2009.
I also wanted to take a moment to let you know several inquiries have indicated the professionalism and great quality of Nevada Technical Associates course offerings. I look forward to sending my employees to such a highly recommended program and trust that our experience together only enhances your reputation.

– From a medical clinic in Oklahoma
Click on the course title for more information and for course locations
HAZWOPER 40 Hour Training Course
Radiation Safety Officer Course
Radiation Safety Officer with Medical Emphasis
Radiation Safety for Industrial Radiography
Radiation Safety Officer Course for Industrial Radiography
Diagnostic and Therapeutic Nuclear Medicine
Management of Personnel Dosimetry Programs
Radiation Safety Training for Authorized Users
Liquid Scintillation Counting and Alpha Counting
Radiation Detection Instruments:Test and Calibration
Radiation Safety Officer Refresher
Transportation and Packaging of Radioactive Materials
Onsite Courses to fit your needs: The above courses and many others can be given at your site. To register for any of these courses, you may use one of several methods, online, telephone or fax. Using the online registration will help reduce errors and give you immediate confirmation information. When the online registration is active, please use the link next to the course date you are interested in. If the link is not active, contact us and register by phone (702-564-2798) or complete a registration form and fax it to us. We will send confirmation within 24 hours. If you don't receive the confirmation, please Contact Us.
The registration form in PDF format is available here. If you have any questions, please call us at 702-564-2798. If you need more information about course content, we can send a course outline.
Attendees should register for the course as early as possible. We recommend registration at least 60 days before the start date of the course to insure that you will get your first choice of dates and location. However, we do not have a registration deadline, so even last minute registrations can sometimes be accepted. You may pay by credit card, check or wire transfer. Please arrange for payment or a purchase order to reach us 20 days before the start date of the course. If there is a need to pay after the 20 day deadline, please call us to make arrangements so that we know that payment is being processed.
Refund Policy: Attendees will receive a refund, less a $50 cancellation fee, for cancellations that we receive at least 14 days before a course begins. For cancellations received after the 14 day point the course fee can be applied to future courses.
Click on the controls below to see a short video of our courses:
Comments From Our Customers:
Course evaluations by the attendees are an important measure of customer satisfaction.
Here are some comments from student evaluations:
This is the best course that I have had in my 16 year professional career.

– an attendee of the Environmental course.
The instructors were impressive experts and superior speakers.

– from an attendee of the Radiochemistry course.
The instructor presented the regulations better than anyone I have ever heard

– an attendee of the Radiation Safety Officer course.
The course was exactly what I wanted. Thank you very much

– an M.D. from Hershey Medical Center on our RSO course.
Great presentation. An excellent complement to the text. I also highly recommend the course

– an attendee of the Radiochemistry course.